What is a beginner piano lesson plan, and how can it be your time and soul saver? The beginner piano lesson plan is not set in stone and can give enough room for flexibility. Include these three roadmap elements into your planning, and it will save your time, help with learning evaluation, and assist with long and short goal-setting.
Timing and Reflection
A good idea might be to plan the next lesson immediately after or later in the day when the last class is still fresh in your mind. Always know the activities for the upcoming lesson.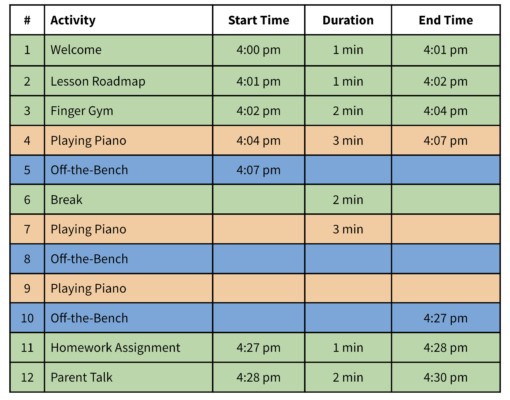 Routine Activities
The Routine Activities include Ice-breaker, Lesson Roadmap, Finger Gym, Warm-ups, Homework assignments, and talking with parents. Each of those elements is short and takes only 1-2 minutes of the lesson.
Lesson Planner Cards printable can be found here.
Piano Playing
Intending to learn to play piano music-making is the top priority. This element takes most of the lesson time, and the student has enough time to experience music. And for the beginner piano student playing piano consists of rote playing, using maps and pre-reading prints, improvising and composing.
Take a look inside Piano Heroes: Mission Start
Off-the-Bench Activities
One of the main challenges with kids nowadays is losing their interest in activities of any kind extremely fast and having a very short attention span. These are what the Off-the-Bench activities help to overcome as they appear in between Playing Piano exercises and are our vital tools in successful piano teaching. Off-the-Bench activities are everything that includes movement, listening, drawing, games, and even worksheets.
Here is Notopoly, the most loveable and popular game to reinforce note-reading skills.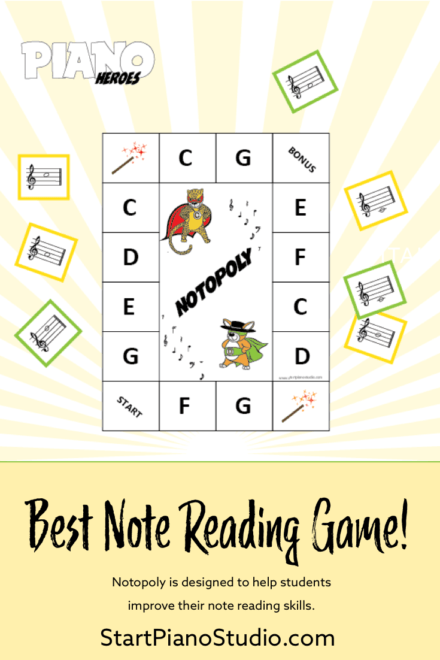 Happy teaching!